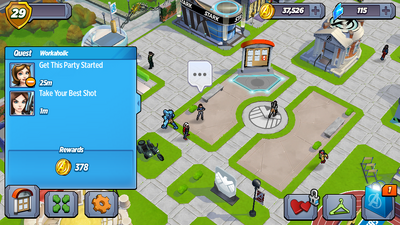 Workaholic is a Storyline Quest. Maria Hill is ready for her first day at the Academy. If only Wasp didn't insist on showing her around...
Requirements
Edit
| Character | Action | Time | Location |
| --- | --- | --- | --- |
| Wasp | Get This Party Started | 25m | Club A (dance floor) |
| Maria Hill | Take Your Best Shot | 1m | The Blasting Range (firing points) |
Quest Dialogue
Edit
Pre-Action
Wasp: Hi Maria! I'm Wasp! I'll show you all the fun stuff to do at Avengers Academy!
Maria Hill: Thanks, but I already laid out a full itinerary.
Wasp: You made a schedule for your whole first day?
Maria Hill: I made a schedule for my whole life.
Post-Action
Wasp: How are things going so far?
Maria Hill: Good. I'm gonna write the administration about making the Blasting Range more challenging, but I was already able to gather a lot of useful intel from the Archives.
Wasp: Well, don't forget to make some time in your schedule to check out the Club and the Stadium and all the fun places too. That's where everybody goes to relax and let their guard down.
Maria Hill: I like the way you think...
Ad blocker interference detected!
Wikia is a free-to-use site that makes money from advertising. We have a modified experience for viewers using ad blockers

Wikia is not accessible if you've made further modifications. Remove the custom ad blocker rule(s) and the page will load as expected.