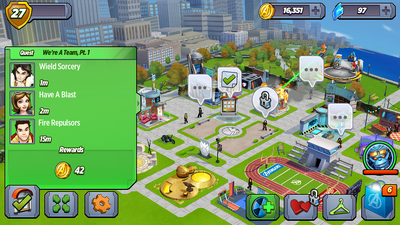 We're a Team, Pt. 1 is an Event Quest in the limited-time Gamma Attack! event. Loki and Wasp are preparing to help Iron Man fight the Hulks.
Requirements
Edit
| Character | Action | Time | Location |
| --- | --- | --- | --- |
| Loki | Wield Sorcery | 1m | Quad (walking) |
| Wasp | Have A Blast | 2m | The Blasting Range (firing points) |
| Iron Man | Fire Repulsors | 15m | The Blasting Range (firing points) |
Quest Dialogue
Edit
Pre-Action
Loki: You're a fool for fighting that overgrown blueberry.
Iron Man: Thank you for your support.
Loki: The Bug-Woman and I have already agreed to fight by your side. I won't have some green villain threatening everyone while claiming intellectual superiority.
Iron Man: Yeah, one is enough...
Post-Action
Loki: I have no doubt I can defeat this scaly boysenberry on my own, but I'll continue to hone my attacks to make sure the blows are lethal.
Iron Man: We don't need to kill him. We just need to hit him hard enough to disrupt whatever mind control The Leader has on him...
Loki: That doesn't sound nearly as enjoyable, but I'll take your word for it.
Ad blocker interference detected!
Wikia is a free-to-use site that makes money from advertising. We have a modified experience for viewers using ad blockers

Wikia is not accessible if you've made further modifications. Remove the custom ad blocker rule(s) and the page will load as expected.