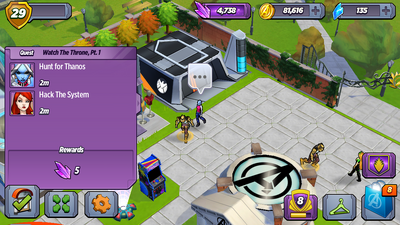 Watch The Throne, Pt. 1 is an Event Quest and part of the Guardians of the Galaxy Event. Nebula and Black Widow are gathering info on Thanos.
Requirements
Edit
| Character | Action | Time | Location |
| --- | --- | --- | --- |
| Nebula | Hunt for Thanos | 2m | Stark Tower (holo display) |
| Black Widow | Hack The System | 2m | Stark Tower (holo display) |
Quest Dialogue
Edit
Pre-Action
Nebula: They tell me you're the best here at uncovering hidden information...
Black Widow: When I have time. Right now, I'm kind of busy defending my school from an army of evil aliens. And deciding if you're the worst of them...
Nebula: I'm searching for the worst right now. And if you don't help me find him, time will run out for all of us...
Post-Action
Black Widow: I see the name Thanos everywhere, but hardly any actual intel on him...
Nebula: Because everyone who meets him is afraid to talk. If they live long enough to talk at all...
Black Widow: I don't know much about space, but I'm pretty sure I can help you find him. And I'm pretty sure we'll need some kind of super-weapon to get anywhere close to him.
Nebula: I count two super-weapons standing right here...