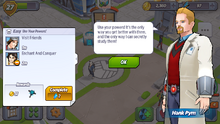 Use Your Powers! is an Easy Mission Board Quest. Hank Pym says, "Use your powers! It's the only way you get better with them, and the only way I can secretly study them!"
Requirements
Edit
| Character | Action | Time | Location |
| --- | --- | --- | --- |
| Ant-Man | Visit Friends | 1m | Quad (walking) |
| Loki | Enchant And Conquer | 2m | The Asgardian Forge (magic pool) |
Ad blocker interference detected!
Wikia is a free-to-use site that makes money from advertising. We have a modified experience for viewers using ad blockers

Wikia is not accessible if you've made further modifications. Remove the custom ad blocker rule(s) and the page will load as expected.