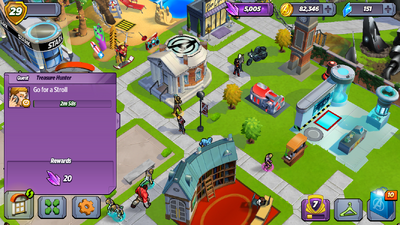 Treasure Hunter is an Event Quest and part of the Guardians of the Galaxy Event. Yondu has a new partner—Star-Lord is worried.
Requirements
Edit
| Character | Action | Time | Location |
| --- | --- | --- | --- |
| Star-Lord | Go For A Stroll | 3m | Paths |
Quest Dialogue
Edit
Pre-Action
Star Lord: Yondu...
Yondu: Surprised to see me?
Star Lord: Yeah. I mean, pleasantly surprised. Obviously. Since we're such good friends. And I've never ever double-crossed you...
Yondu: I got a new friend, Quill. And she's gonna help me take down the biggest score any of us has ever seen...
Post-Action
Yondu: I ain't used to getting invited places...
Black Widow: Nebula says you're the best treasure hunter in the galaxy. I doubt what Fury's hiding at this campus is treasure, but I know we need to dig it up.
Yondu: One man's most prized possession is another man's treasure...
Ad blocker interference detected!
Wikia is a free-to-use site that makes money from advertising. We have a modified experience for viewers using ad blockers

Wikia is not accessible if you've made further modifications. Remove the custom ad blocker rule(s) and the page will load as expected.