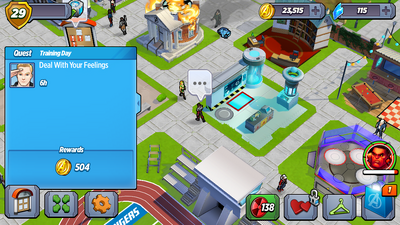 Training Day is a Storyline Quest. Falcon wants to hang out and spar with Captain America so they can work off their frustrations in regards to their female classmates.
Requirements
Edit
| Character | Action | Time | Location |
| --- | --- | --- | --- |
| Captain America + Falcon | Deal With Your Feelings | 6hr | The Arena Of War (stage) |
Quest Dialogue
Edit
Pre-Action
Falcon: I was gonna ask if you wanna work out, but you always wanna work out. Sparring actually sounds good right now...
Captain America: Girl problems?
Falcon: How'd you know?
Captain America: I'm technically a hundred years old, so I know some things. And I can relate. Only my problems are with Enchantress. And the problem is that she wants to kill me.
Falcon: Mine are with Black Widow.
Captain America: Oh. That's not good.
Post-Action
Captain America: I feel way better.
Falcon: All I feel is pain...
Captain America: That's just your muscles saluting your effort! What's your problem with Widow, anyway?
Falcon: I think she thought we had something going on, but I didn't even know. And now I'm kind of seeing Ms. Marvel...
Captain America: We better keep training. You got a lot of things to work through...
Ad blocker interference detected!
Wikia is a free-to-use site that makes money from advertising. We have a modified experience for viewers using ad blockers

Wikia is not accessible if you've made further modifications. Remove the custom ad blocker rule(s) and the page will load as expected.