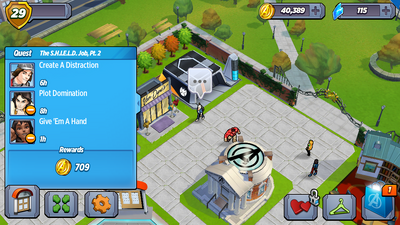 The S.H.I.E.L.D. Job, Pt. 2 is a Storyline Quest. The crew is ready for the heist, and it's going to be more painful for Ant-Man than most.
Requirements
Edit
Character
Action
Time
Location
Ant-Man + Taskmaster
Create A Distraction
6hr
The Arena Of War (stage)
Loki
Plot Domination
8hr (1hr 59m with


Frost Giant Loki outfit)

Stark Tower (holo display)
Ms. Marvel
Give 'Em A Hand
1hr
The Robo Dojo (arena)
Quest Dialogue
Edit
Pre-Action
Ant-Man: We're all set. You just be inconspicuous while the rest of us create a bunch of distractions.
Black Widow: What're you gonna do?
Ant-Man: Let Taskmaster beat me up.
Black Widow: I would've beat you up.
Ant-Man: You hit too hard.
Post-Action
Nick Fury: Find out why these guys are trying to distract us. Black Widow has to be behind it.
Pepper Potts: Are you sure they aren't just acting stupid?
Nick Fury: They're doing both.
Ad blocker interference detected!
Wikia is a free-to-use site that makes money from advertising. We have a modified experience for viewers using ad blockers

Wikia is not accessible if you've made further modifications. Remove the custom ad blocker rule(s) and the page will load as expected.