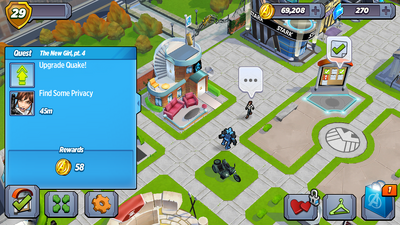 The New Girl, pt. 4 is a Premium Quest. Quake is looking for some peace and quiet to work out her feelings.
Requirements
Edit
| Character | Action | Time | Location |
| --- | --- | --- | --- |
| Quake | Find Some Privacy | 45m | Quad (lower left) |
Quest Dialogue
Edit
Pre-Action
Quake: I just wanted you to know that I'm going to take your advice. I'll try to find some peace and quiet, and just focus on what I'm feeling, and face it head on.
Captain America: That's great, Quake. I'm proud of you. I know how hard that can be. Do you want me to get you Quinjet access to fly somewhere secluded, or tell everybody not to bother you in your dorm?
Quake: Thanks, but I think I know what I have to do...
Post-Action
Captain America:I hope your breakthrough was as impressive as your powers...
Quake: A year ago, I was walking across the bridge back home. I put my hand on the rail, and it started to shake. I panicked, and couldn't let go. They're still pulling pieces of that bridge out of the water...
Captain America: The drivers...
Quake: Terrified, but made it across in time somehow. I just wanted to cry and apologize. They wanted to see me locked up in one of those prisons where they put people like me...
Captain America: It wasn't your fault. I've already seen how much control you have now. It'll only get better...
Quake: I hope you're right. Either way, I can't just feel sorry for myself, and be afraid to do anything. Thank you for talking to me about all of this...
Captain America You're welcome. Someday, I'll tell you about all of the things I'm trying to work through if you want to know...
Quake: I want to know every single thing about you...
Ad blocker interference detected!
Wikia is a free-to-use site that makes money from advertising. We have a modified experience for viewers using ad blockers

Wikia is not accessible if you've made further modifications. Remove the custom ad blocker rule(s) and the page will load as expected.