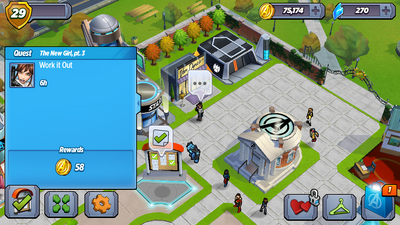 The New Girl, pt. 3 is a Premium Quest. Captain America offers to help Quake deal with past mistakes.
Requirements
Edit
| Character | Action | Time | Location |
| --- | --- | --- | --- |
| Quake | Work It Out | 6hr | Avengers Dorm (punching bag) |
Quest Dialogue
Edit
Pre-Action
Captain America: Quake, right? I'm Steve.
Quake: Captain America...
Captain America: Yeah, people call me that too sometimes. I want to help you train...
Quake: Why me?
Captain America: Because S.H.I.E.L.D. will teach you everything about technique, but they won't talk to you about dealing with mistakes you've made in the past. And I have plenty of experience with that...
Post-Action
Captain America: That's a serious punch. You're gonna make me and Falcon look bad...
Quake: Well, you know, the gloves help...
Captain America:Training is a great way to release all that regret and anger. Temporarily. If you're gonna deal with it for good, you're gonna have to face it head on.
Quake: I'd almost rather dance with Loki...
Ad blocker interference detected!
Wikia is a free-to-use site that makes money from advertising. We have a modified experience for viewers using ad blockers

Wikia is not accessible if you've made further modifications. Remove the custom ad blocker rule(s) and the page will load as expected.