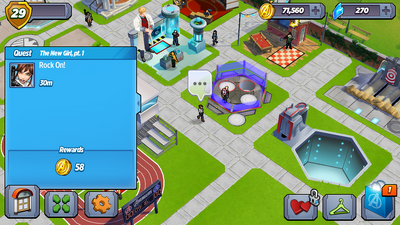 The New Girl, pt. 1 is a Premium Quest. Fury wants Quake to learn how to control her powers, and what better place to practice than the Quad?
Requirements
Edit
| Character | Action | Time | Location |
| --- | --- | --- | --- |
| Quake | Rock On! | 30m | Quad (lower left) |
Quest Dialogue
Edit
Pre-Action
Nick Fury: Alright, Johnson. Let's see what you've got.
Quake: You know I can't control my powers...
Nick Fury: And the only way you'll get better is by practicing.
Quake: Wouldn't it be safer to practice inside S.H.I.E.L.D. H.Q.?
Nick Fury: Not for S.H.I.E.L.D. H.Q.
Post-Action
Nick Fury: Nice work, Johnson! I don't think you give yourself enough credit.
Quake: Thank you. I can usually control my powers pretty well, but sometimes I lose control, and it always turns out bad.
Nick Fury: I knew a guy like you once. Smart. Good person. But he'd lose it every once in a while, and level half a continent.
Quake: What happened to him?
Nick Fury: Classified.
Ad blocker interference detected!
Wikia is a free-to-use site that makes money from advertising. We have a modified experience for viewers using ad blockers

Wikia is not accessible if you've made further modifications. Remove the custom ad blocker rule(s) and the page will load as expected.