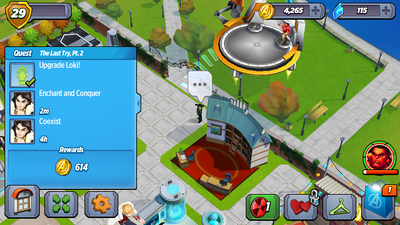 The Last Try, Pt. 2 is a Storyline Quest. Loki wants to prove his sincerity to the rest of the students and Black Widow is prepared to indulge him.
Requirements
Edit
| Character | Action | Time | Location |
| --- | --- | --- | --- |
| Loki | Enchant and Conquer | 2m | The Asgardian Forge (magic pool) |
| Black Widow + Loki | Coexist | 4hr | The Timeless Archives (computer) |
Quest Dialogue
Edit
Pre-Action
Loki: Why doesn't anyone trust me? Is it because I'm a known liar?
Black Widow: Yes.
Loki: Maybe it's because I'm powerful, handsome, and highborn...
Black Widow: No, you had it right the first time. You just need to prove that you want to be part of the Academy. C'mon, I need to study. I'll let you sit with me, and pretend we're friends...
Post-Action
Loki: Did you have fun?
Black Widow: I don't socialize for fun.
Loki: Why do you?
Black Widow: I usually don't. I made an exception for you.
Loki: Because we've formed a friendship over time. Or something stronger?
Black Widow: Because I feel sorry for you. But mostly because you're a really good liar, and I wanted to study you to see if I could pick up any tips.
Loki: That's really...something I would do.
Ad blocker interference detected!
Wikia is a free-to-use site that makes money from advertising. We have a modified experience for viewers using ad blockers

Wikia is not accessible if you've made further modifications. Remove the custom ad blocker rule(s) and the page will load as expected.