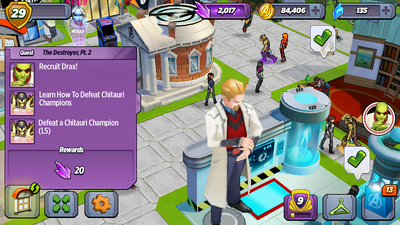 The Destroyer, Pt. 2 is an Event Quest and part of the Guardians of the Galaxy Event. This is the quest that allows you to bring Drax to your Academy.
Requirements
Edit
Recruit Drax!

8,023 Energy Crystals
5 Bowls of Food
4 Chitauri Blasters
12 Enhanced Armor
Quest Dialogue
Edit
Pre-Action
Star Lord: We need to stop Ronan and the Chitauri from bringing the Energy Crystals back to the Cosmic Conservatory.
Drax: I'll destroy the Chitauri because they work for Ronan. I'll destroy Ronan because he works for Thanos. I'll destroy Thanos because I hate Thanos.
Star Lord: Whatever floats your boat.
Drax: I've never owned a boat. Even if I did, I doubt it would float on anything but water.
Star Lord: That never gets old...
Post-Action
Drax: I need a ship.
Gamora: We need to help the Terrans before we go back to the Conservatory.
Drax: My vengeance can't wait...
Gamora: It'll have to. There's nothing here that can get us back into space.
Drax: Then you'll have to excuse me. I need to destroy something...
Ad blocker interference detected!
Wikia is a free-to-use site that makes money from advertising. We have a modified experience for viewers using ad blockers

Wikia is not accessible if you've made further modifications. Remove the custom ad blocker rule(s) and the page will load as expected.