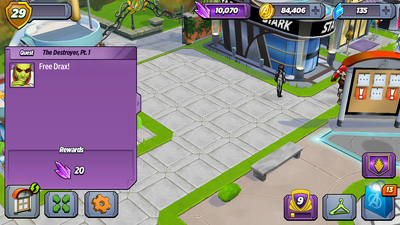 The Destroyer, Pt. 1 is an Event Quest and part of the Guardians of the Galaxy Event. It's time to bring Drax on board!
Requirements
Edit
Quest Dialogue
Edit
Pre-Action
Gamora: We need to free another one of our classmates if we're going to defeat enough Chitauri to reach Ronan.
Star Lord: Not Rocket!
Gamora: You're more afraid of Rocket Raccoon than Drax the Destroyer?
Star Lord: Of course. Drax can kill me with one punch, but at least he won't jump on my head, and claw my eyes out. Everybody thinks I double-crossed them, but at least Drax will listen to reason...
Gamora: We'll see about that...
Post-Action
Star Lord: You okay?
Drax: Where's Thanos?
Star Lord: Whoa! We can't say the 'T' word around here!
Drax: We can say anything we want, Quill. We just have to move our lips and tongues around.
Star Lord: I...can't argue with that.
Ad blocker interference detected!
Wikia is a free-to-use site that makes money from advertising. We have a modified experience for viewers using ad blockers

Wikia is not accessible if you've made further modifications. Remove the custom ad blocker rule(s) and the page will load as expected.