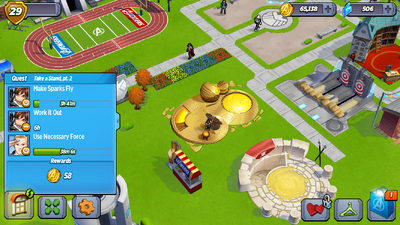 Take a Stand, pt. 2 is a Premium Quest. Quake needs to blow off some steam, and Cap is always up for extra training.
Requirements
Edit
| Character | Action | Time | Location |
| --- | --- | --- | --- |
| Quake | Make Sparks Fly | 4hr | The Asgardian Forge (anvil) |
| Quake | Work it Out | 6hr | Avengers Dorm (punching bag) |
| Captain America | Use Necessary Force | 1hr | The Robo Dojo (arena) |
Quest Dialogue
Edit
Pre-Action
Captain America: You okay?
Quake: I'm frustrated with Fury...
Captain America: Pretty sure every student here has said the same thing at some point. Maybe not Wasp...
Quake: You wanna hang out and hit things?
Captain America: Always.
Post-Action
Quake: We need to do something about Fury and S.H.I.E.L.D. I appreciate what they do, and I still want to be a part of it, but they have to be open to our ideas...
Captain America: I'd be happy if they were just open with their information.
Quake: How do we convince them?
Captain America: Shake 'em really hard...
Quake: You're right!
Captain America: It was a joke! See, this is exactly why I never tell jokes...
Ad blocker interference detected!
Wikia is a free-to-use site that makes money from advertising. We have a modified experience for viewers using ad blockers

Wikia is not accessible if you've made further modifications. Remove the custom ad blocker rule(s) and the page will load as expected.