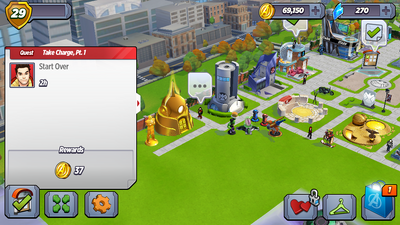 Take Charge, Pt. 1 is a Event Quest. Pepper Potts and Iron Man decide to get back to basics and give being friends a try.
Requirements
Edit
| Character | Action | Time | Location |
| --- | --- | --- | --- |
| Iron Man + Pepper Potts | Start Over | 2hr | Club A (dance floor) |
Quest Dialogue
Edit
Pre-Action
Pepper I say we start over.
Iron Man: How do we do that?
Pepper Potts: You'll stop bragging all the time, and hitting on me with your cheesy one-liners. I'll stop being mean to you, and shower you with well-deserved compliments.
Iron Man: I didn't hear anything you said after the word shower...
Pepper Potts: Let's just go dancing before I change my mind...
Post-Action
Iron Man: You ever get the feeling that we're meant to be together?
Pepper Potts: Not really.
Iron Man: Oh...
Pepper Potts: But that doesn't mean we can't be...
Ad blocker interference detected!
Wikia is a free-to-use site that makes money from advertising. We have a modified experience for viewers using ad blockers

Wikia is not accessible if you've made further modifications. Remove the custom ad blocker rule(s) and the page will load as expected.