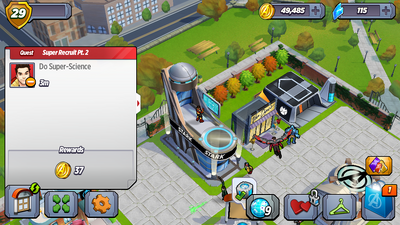 Super Recruit Pt. 2 is an Event Quest for the limited-time Women of Power event. Pepper enlists Iron Man's help to help her finish her list of the 25 strongest potential recruits. They need to create detailed Dossiers on each recruit, and then visit them in person (the actions required for the To The Rescue! (Limited Time!) quest).
Requirements
Edit
| Character | Action | Time | Location |
| --- | --- | --- | --- |
| Iron Man | Do Super-Science | 3m | Stark Tower (holo display) |
Quest Dialogue
Edit
Pre-Action
Pepper Potts: I need you guys to make detailed dossiers on each super recruit before visiting them in person. Knowing everything about them will help us convince them to join, and even fight them if things go bad.
Iron Man: Okay.
Pepper Potts: That's it? You aren't gonna hit on me or make a dumb joke?
Iron Man: Nope.
Pepper Potts: I wasn't prepared for this outcome...
Post-Action
Pepper Potts: Thanks for the dossiers, Tony. Bringing in these super recruits will take the Academy to a whole new level.
Iron Man: You're welcome.
Pepper Potts: Okay, what is going on right now? You're usually the guy that can't stop talking about himself. Now you're mister perfect manners with two word answers...
Iron Man: It's a secret.
Pepper Potts: Do you think that if you just listen and agree with me all the time it'll give you a better chance of getting a date?
Iron Man: Will it?
Pepper Potts: Probably...
Ad blocker interference detected!
Wikia is a free-to-use site that makes money from advertising. We have a modified experience for viewers using ad blockers

Wikia is not accessible if you've made further modifications. Remove the custom ad blocker rule(s) and the page will load as expected.