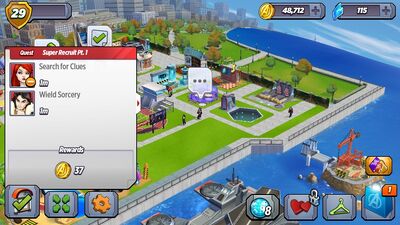 Super Recruit Pt. 1 is an Event Quest for the limited-time Women of Power event. Pepper needs assistance gathering intel on the new recruits, and enlists Black Widow and Loki to help.
Requirements
Edit
| Character | Action | Time | Location |
| --- | --- | --- | --- |
| Black Widow | Search for Clues | 1m | Quad (walking) |
| Loki | Wield Sorcery | 1m | Quad (walking) |
Quest Dialogue
Edit
Pre-Action
Nick Fury: How's that list coming?
Pepper Potts: Almost finished. I've asked some of the students to help me look for additional intel, but soon we'll have a comprehensive list of the twenty most powerful unsigned superhumans on the planet.
Nick Fury: How do you plan on convincing them all to attend Avengers Academy instead of Hydra School?
Pepper Potts: I usually just remind recruits that Hydra is evil. Unless they're also sort of evil. In which case, I tell them that we have a shawarma stand and a hot tub. That usually works...
Post-Action
Pepper Potts: The list of super recruits is finished. If we get even half of these...people, we'll be unstoppable.
Nick Fury: Nice work, Potts. If all my recruits were as smart and driven as you, I'd have nothing to worry about.
Pepper Potts: You'd find something to worry about.
Nick Fury: You're probably right. I have an aversion to relaxation.
Ad blocker interference detected!
Wikia is a free-to-use site that makes money from advertising. We have a modified experience for viewers using ad blockers

Wikia is not accessible if you've made further modifications. Remove the custom ad blocker rule(s) and the page will load as expected.