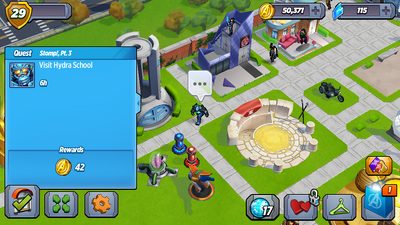 Stomp!, Pt. 3 is a Event Quest, and part of the Gamma Attack! Event. Madame Hydra wants to get a feel for A-Bomb's loyalties—will she end up making him an offer he can't refuse?
Requirements
Edit
| Character | Action | Time | Location |
| --- | --- | --- | --- |
| A-Bomb | Visit Hydra School | 6h | The Quinjet Hangar (Quinjet) |
Quest Dialogue
Edit
Pre-Action
A-Bomb: Madame Hydra...
Madame Hydra: This isn't an assault, A-Bomb, it's an invitation. Do you like being thought of as the blue Hulk?
A-Bomb: That's what I am...
Madame Hydra: Pay a visit to Hydra School. I think you'll see you can be so much more...
Post-Action
Madame Hydra: Do you understand now? You can be more than just a blue Hulk. More than a Red Skull. More than anything you ever imagined. You can rule the world...
A-Bomb: Were you the one that trapped Hulk in the timefog?
Madame Hydra: Fury and Pym did that. I have no doubt. And I have no doubt that with you, we can make them pay for what they've done.
A-Bomb: I can't hurt my new friends...
Madame Hydra: You don't have to. We'll just hurt our old enemies. Hopefully before they have the chance to hurt you like they did your friend the Hulk...
A-Bomb: I don't know...
Madame Hydra: You don't have to decide now, A-Bomb. Someday, the Hulk will be free. And you'll have to decide whether you're just another Hulk waiting to be trapped, or an A-Bomb ready to set the world free...
Ad blocker interference detected!
Wikia is a free-to-use site that makes money from advertising. We have a modified experience for viewers using ad blockers

Wikia is not accessible if you've made further modifications. Remove the custom ad blocker rule(s) and the page will load as expected.