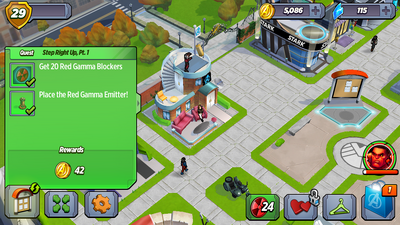 Step Right Up, Pt. 1 is an Event Quest and part of the limited-time Gamma Attack! event. Now it's Wasp's turn to take on Red Hulk.
Requirements
Edit
Get 20 Red Gamma Blockers

Each Battle with Red Hulk gives you 11 RGB

Place the Red Gamma Emitter
| Character | Action | Time | Location | Needed to Battle |
| --- | --- | --- | --- | --- |
| Wasp | Plan Some Attacks | 2hr | Avengers Dorm (right chair) | 5 |
| Black Widow | Stay On Target | 4hr | The Blasting Range (firing points) | 3 |
| Falcon | Punch Out! | 8hr | Avengers Dorm (punching bag) | 2 |
| A-Bomb | Roll To Battle | 12hr | Quad (walking) | (automatically gives 1 RGB) |
Quest Dialogue
Edit
Pre-Action
Wasp: I heard you guys have been getting your butts kicked by Red Hulk!
Falcon: I knocked him out once...
Black Widow: You think you can do better?
Wasp: Wasp and learn, Natasha. Wasp and learn...
Post-Action
Black Widow: How are you not hurt right now? I saw Red Hulk hit you a bunch of times...
Wasp: Oh, I'm totally in a lot of pain!
Black Widow: Do you need a doctor?
Wasp: For sure! Thanks for asking!
Ad blocker interference detected!
Wikia is a free-to-use site that makes money from advertising. We have a modified experience for viewers using ad blockers

Wikia is not accessible if you've made further modifications. Remove the custom ad blocker rule(s) and the page will load as expected.