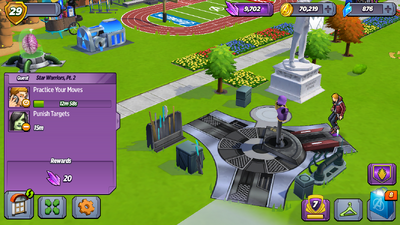 Star Warriors, Pt. 2 is an Event Quest and part of the Guardians of the Galaxy Event. Star-Lord and Gamora are getting ready to kick some Chitauri butt.
Requirements
Edit
| Character | Action | Time | Location |
| --- | --- | --- | --- |
| Star-Lord | Practice Your Moves | 15m | Cosmic Combat Simulator (dummy) |
| Gamora | Punish Targets | 15m | Cosmic Combat Simulator (dummy) |
Quest Dialogue
Edit
Pre-Action
Star Lord: You wanna go first or second?
Gamora: It's surprisingly considerate of you to even ask.
Star Lord: Yeah, I just wasn't sure if you'd wanna go second and be awestruck by my awesomeness, or go first and disappointed by my dominance.
Gamora: Doesn't matter as long as you keep your distance. It would be a shame to accidentally decapitate you.
Post-Action
Star Lord: I hope you know I wasn't trying to steal the Gauntlet back at the Conservatory. I just saw an opening, and figured getting it away from him would be our only chance.
Gamora: I believe you, Quill. We'll see if Rocket is as forgiving...
Star Lord: He'll get over it. After he tries to shoot me. And I roll up into a little ball. And whimper. Hopefully...
Gamora: We had an agreement. None of us are friends. We just knew what had to be done.
Star Lord: I thought we were a team...
Gamora: Perhaps we could've been. Now we'll never know...
Ad blocker interference detected!
Wikia is a free-to-use site that makes money from advertising. We have a modified experience for viewers using ad blockers

Wikia is not accessible if you've made further modifications. Remove the custom ad blocker rule(s) and the page will load as expected.