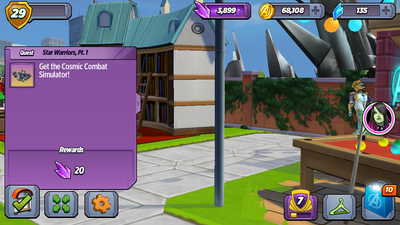 Star Warriors, Pt. 1 is an Event Quest and part of the Guardians of the Galaxy Event. Our new heroes need a proper place to train.
Requirements
Edit
Build the Cosmic Combat Simulator!

Cost: 2 Chitauri Armors, 6325 Energy Crystals
Time: 4hr
Quest Dialogue
Edit
Pre-Action
Gamora: We need a place to train if we're going to get through the Chtauri to take down Ronan.
Star Lord: You probably didn't notice since you were sleeping in the escape pod, but I've been doing pretty good out here...
Gamora: I've seen you fight, Quill.
Star Lord: Fine. I'll work with Tony Stark to design a combat building that works for all of us.
Gamora: You trust him?
Star Lord: Yeah, he's great. He's like me if I would've stayed on Earth. And had a bunch of money. And knew how to make things...
Post-Action
Star Lord: Not bad, huh? Finally a place for the intergalactic assassin in all of us.
Gamora: Not bad at all. Although Tony Stark did all the work.
Star Lord: I had some ideas...
Gamora: I noticed the training dummy. That's probably the best idea you've ever had.
Ad blocker interference detected!
Wikia is a free-to-use site that makes money from advertising. We have a modified experience for viewers using ad blockers

Wikia is not accessible if you've made further modifications. Remove the custom ad blocker rule(s) and the page will load as expected.