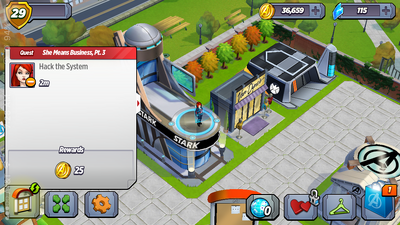 She Means Business, Pt. 3 is an Event Quest for the limited-time Women Of Power event. Now it's Black Widow's turn to show Pepper around.
Requirements
Edit
| Character | Action | Time | Location |
| --- | --- | --- | --- |
| Black Widow | Hack The System | 2m | Stark Tower (holo display) |
Quest Dialogue
Edit
Pre-Action
Black Widow: Why do you have a sudden interest in getting armor and repulsor beams?
Pepper Potts: Would you believe me if I told you?
Black Widow: Probably not.
Pepper Potts: Check out our potential recruit list. I think you'll understand...
Post-Action
Black Widow: You're right. A lot of our incoming recruits are more dangerous than our enemies.
Pepper Potts: And we need them because we never know what's coming at us next. And a lot of them won't commit unless I visit them where they live. And some of those places are scary...
Black Widow: Aren't you worried they'll wreck the Academy?
Pepper Potts: No. We have heroes like you to protect us. And pretty soon I'll be coming to the Rescue...
Ad blocker interference detected!
Wikia is a free-to-use site that makes money from advertising. We have a modified experience for viewers using ad blockers

Wikia is not accessible if you've made further modifications. Remove the custom ad blocker rule(s) and the page will load as expected.