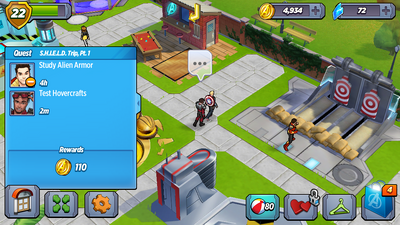 S.H.I.E.L.D. Trip, Pt. 1 is a Storyline Quest. Iron Man and Falcon are taking classes at S.H.I.E.L.D. H.Q. so they can get permission to fly the Quinjet.
Requirements
Edit
| Character | Action | Time | Location |
| --- | --- | --- | --- |
| Iron Man | Study Alien Armor | 4hr | S.H.I.E.L.D. H.Q. (inside) |
| Falcon | Test Hovercrafts | 2m | S.H.I.E.L.D. H.Q. (inside) |
Quest Dialogue
Edit
Pre-Action
Falcon: You ever think about a career in S.H.I.E.L.D.?
Iron Man: No. I don't like getting yelled at, I don't like getting shot at, and I'm allergic to uniforms.
Falcon: Well, I'm trying it out. Fury said anyone who takes courses at S.H.I.E.L.D. H.Q. gets to use the Quinjet for away missions.
Iron Man: I'm in. Girls love flying, but everytime I take a girl flying with me, she just gets a bunch of bugs in her teeth.
Post-Action
Falcon: That was actually pretty cool. I can't believe some of the stuff they keep in there.
Iron Man: The display on alternate dimensions really got me thinking...
Falcon: Yeah, the whole concept of infinite timelines is a trip.
Iron Man: So many girls. And so many Tonys...
Ad blocker interference detected!
Wikia is a free-to-use site that makes money from advertising. We have a modified experience for viewers using ad blockers

Wikia is not accessible if you've made further modifications. Remove the custom ad blocker rule(s) and the page will load as expected.