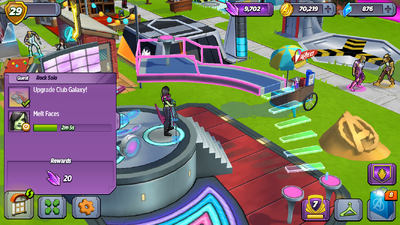 Rock Solo is a part of the Guardians of the Galaxy Event. Gamora wants to share her songs about the pointlessness of life with the other Academy students.
Requirements
Edit
Upgrade Club Galaxy to Level 2!

Cost: 2 Chitauri Armor, 1,059 Energy Crystals
Time: 3hr
| Character | Action | Time | Location |
| --- | --- | --- | --- |
| Gamora | Melt Faces | 3m | Club Galaxy (guitar) |
Quest Dialogue
Edit
Pre-Action
Wasp: How come you aren't cutting up more alien invaders?
Gamora: I have to step away before it drives me insane. I'll feel better after I perform my new song...
Wasp: Cool! What's it about? Love? Boys? Parties? Being in love with boys at parties?
Gamora: It's about hope slowly drowning in a meaningless void.
Wasp: Do you need a backup dancer?!
Post-Action
Wasp: That was awesome!
Gamora: You like my music?
Wasp: I couldn't really tell what you were screaming, but I love how you just get up there and rock it! That's some serious girl power!
Gamora: Thank you. I actually feel like I might like you...
Wasp: Let's start a band! I'm gonna go rip up all my shirts!
Ad blocker interference detected!
Wikia is a free-to-use site that makes money from advertising. We have a modified experience for viewers using ad blockers

Wikia is not accessible if you've made further modifications. Remove the custom ad blocker rule(s) and the page will load as expected.