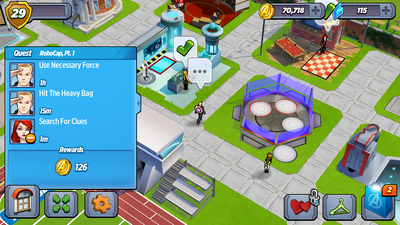 RoboCap, Pt. 1 is a Storyline Quest. Captain America wants to have some fun—by training even more!
Requirements
Edit
| Character | Action | Time | Location |
| --- | --- | --- | --- |
| Captain America | Use Necessary Force | 1hr | The Robo Dojo (arena) |
| Captain America | Hit The Heavy Bag | 15m | Avengers Dorm (punching bag) |
| Black Widow | Search For Clues | 1m | Quad (walking) |
Quest Dialogue
Edit
Pre-Action
Captain America: Want to join me at the Robo Dojo to train?
Black Widow: Didn't I see you start training four hours ago?
Captain America: Five.
Black Widow: Thanks, but I'm busy. I never thought I'd say this to someone at this school, but you should probably take some time to relax and have fun.
Captain America: I'm gonna hit the heavy bag, and smash robots with my shield. Unless there are Hydra guys here to fight, that's about as fun as it gets for me.
Post-Action
Captain America: That was great. I wish we had Tony's robots back when I first learned how to fight.
Black Widow: Maybe next time you train, I'll join you.
Captain America: Let's go!
Black Widow: Now?! I'm starting to think you might be a robot...
Ad blocker interference detected!
Wikia is a free-to-use site that makes money from advertising. We have a modified experience for viewers using ad blockers

Wikia is not accessible if you've made further modifications. Remove the custom ad blocker rule(s) and the page will load as expected.