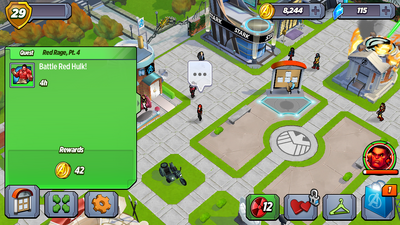 Red Rage, Pt. 4 is an Event Quest and part of the limited-time Gamma Attack! event. It's now Falcon's turn to face Red Hulk.
Requirements
Edit
Quest Dialogue
Edit
Pre-Action
Falcon: Any advice for fighting Red Hulk?
Black Widow: Don't let him hit you.
Falcon: I'll keep that in mind...
Black Widow: Use your wings and agility to stay out of his reach. I beat on him enough that he's on the verge of going down, so you should be able to finish him off. Probably. Maybe. I'll save you if I have to...
Falcon: You'd be a terrible motivational speaker.
Post-Action
Black Widow: Not bad, Falcon. How's it feel to knock out a Hulk?
Falcon: Painful. You did most the work...
Black Widow: I know. But I'm glad you're here to help.
Ad blocker interference detected!
Wikia is a free-to-use site that makes money from advertising. We have a modified experience for viewers using ad blockers

Wikia is not accessible if you've made further modifications. Remove the custom ad blocker rule(s) and the page will load as expected.