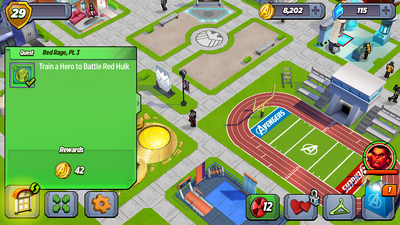 Red Rage, Pt. 3 is an Event Quest and part of the limited-time Gamma Attack! event. Black Widow will take on Red Hulk first, then it's Falcon's turn.
Requirements
Edit
Train a Hero to Battle Red Hulk
| Character | Action | Time | Location | Needed to Battle |
| --- | --- | --- | --- | --- |
| Wasp | Plan Some Attacks | 2hr | Avengers Dorm (right chair) | 5 |
| Black Widow | Stay On Target | 4hr | The Blasting Range (firing points) | 3 |
| Falcon | Punch Out! | 8hr | Avengers Dorm (punching bag) | 2 |
Quest Dialogue
Edit
Pre-Action
Black Widow: I'll fight Red Hulk first.
Falcon: I knew you'd say that. I'd try to change your mind, but I don't want you fighting me instead...
Post-Action
Black Widow: He's pretty tough...
Falcon: Are you okay?
Black Widow: I'm fine...
Falcon: I'll fight him next...
Black Widow: Okay. I guess it's only fair you get a turn...
Ad blocker interference detected!
Wikia is a free-to-use site that makes money from advertising. We have a modified experience for viewers using ad blockers

Wikia is not accessible if you've made further modifications. Remove the custom ad blocker rule(s) and the page will load as expected.