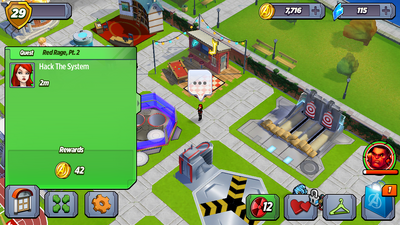 Red Rage, Pt. 2 is an Event Quest and part of the limited-time Gamma Attack! event. Black Widow is hacking into The Leader's database to see if there are any weaknesses she can exploit.
Requirements
Edit
| Character | Action | Time | Location |
| --- | --- | --- | --- |
| Black Widow | Hack The System | 2m | Stark Tower (holo display) |
Quest Dialogue
Edit
Pre-Action
Wasp: Falcon says he'll help you fight Red Hulk!
Black Widow: Why? I'm going to Stark Tower right now to find his weaknesses...
Wasp: Because Falcon's brave. And he's a nice guy. As soon as I told him you were scared, he--
Black Widow: You told him what?!
Post-Action
Black Widow: I'm not afraid of Red Hulk.
Falcon: I know. It's hard to imagine you being afraid of anything. Even harder to imagine you admitting it. Wasp worries about you because she's your friend. I'm just here to help...
Black Widow: That's...nice.
Ad blocker interference detected!
Wikia is a free-to-use site that makes money from advertising. We have a modified experience for viewers using ad blockers

Wikia is not accessible if you've made further modifications. Remove the custom ad blocker rule(s) and the page will load as expected.