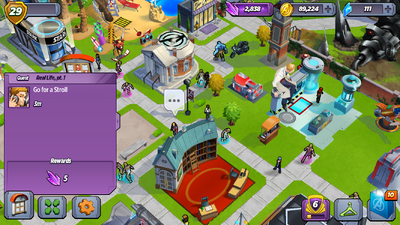 Real Life, pt. 1 is a Storyline Quest tied to Star-Lord's character upgrade chain. The Academy Staff, Odin especially, are wondering when Star-Lord's actually going to get to work...
Requirements
Edit
| Character | Action | Time | Location |
| --- | --- | --- | --- |
| Star-Lord | Go for a Stroll | 3m | Paths |
Quest Dialogue
Edit
Pre-Action
Chitauran Soldier: Rhue Donnk Haskk ul channkh, Starhm-Lahk.
Star Lord: Hey, I don't even wanna fight you guys. For one, it's really hard for me to tell you apart. Like, me and Rhoormfkk get along great, but Kleaakh and me have never seen eye to eye...
Chitauran Soldier: Sholkkh plaetenk!
Star Lord: I'm being serious! Look, let's leave the combat and cosmic conquering to Ronan and Nebula and you-know-who. Let's just be a couple of normal dudes, enjoying a beautiful day on planet Earth...
Chitauran Soldier: Rhy ghelmp it ikh klindh ukh nynnkh...
Star Lord: Exactly! Have you ever had lemonade? It's amazing. So good. They make it in at least two colors. Seriously, you need to go drink a bunch of lemonade right now...
Post-Action
Chitauran Soldier: Yuuuuuuurrrhhk...
Star Lord: What happened?
Chitauran Soldier: Lemukhnade.
Star Lord: How much did you drink? That stuff has a ton of sugar in it, man. You have to know your limits. Now you're all sick and jittery...
Chitauran Soldier: Ahhhkkhh!
Star Lord: Great. I always wanted to be a Chitauri babysitter. Just go lay down in the bushes. I'll bring you a blanket and a hamburger...
Ad blocker interference detected!
Wikia is a free-to-use site that makes money from advertising. We have a modified experience for viewers using ad blockers

Wikia is not accessible if you've made further modifications. Remove the custom ad blocker rule(s) and the page will load as expected.