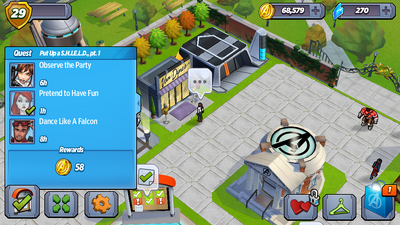 Put Up a S.H.I.E.L.D., pt. 1 is a Premium Quest. Odin's concerned about Quake making friends—turns out one of the people she's having trouble with is Loki.
Requirements
Edit
| Character | Action | Time | Location |
| --- | --- | --- | --- |
| Quake | Observe the Party | 6hr | Club A (bar) |
| Black Widow | Pretend To Have Fun | 1hr | Club A (dance floor) |
| Falcon | Get Your Groove On | 8hr | Club A (dance floor) |
Quest Dialogue
Edit
Pre-Action
Odin: You should be bonding with your classmates, Quake. Forming friendships away from the battlefield is just as important as any combat training. How are you getting along with everyone?
Quake: Some better than others...
Odin: You mean, some better than Loki?
Quake: I didn't want to be rude...
Odin: The truth is sometimes painful, but never disrespectful. My son can be difficult, but strange as it may sound, I believe he'll reveal his heroism, and earn everyone's respect in the the moment of truth...
Quake: Either way, you have to respect his dedication to dancing...
Post-Action
Falcon: How come you aren't joining in on the party?
Quake: I tried. I'm just not in the mood...
Falcon: I understand if you don't feel like you fit in yet. I still feel like that sometimes. Trust me, it gets better. Sooner or later, it starts to feel like home...
Quake: That's the problem...
Ad blocker interference detected!
Wikia is a free-to-use site that makes money from advertising. We have a modified experience for viewers using ad blockers

Wikia is not accessible if you've made further modifications. Remove the custom ad blocker rule(s) and the page will load as expected.