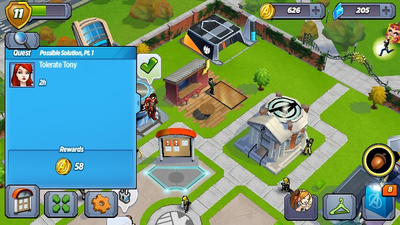 Possible Solution, Pt. 1 is a Storyline Quest. Iron Man asks Black Widow out on a date. She says yes.
Requirements
Edit
| Character | Action | Time | Location |
| --- | --- | --- | --- |
| Black Widow + Iron Man | Tolerate Tony | 2hr | Club A (dance floor) |
Quest Dialogue
Edit
Pre-Action
Iron Man: What would you say if I asked you on a date?
Black Widow: Yes.
Iron Man: Seriously? I thought you'd say something degrading. I'm a little disappointed.
Black Widow: What can I say? You grew on me. Like a horrible mold.
Iron Man: That's more like it.
Post-Action
Iron Man: You know that I know that you're just using me to help you solve this mystery...
Black Widow: I figured you knew, but I don't usually give you that much credit.
Iron Man: You wanna do it again sometime?
Black Widow: No.
Iron Man: I love you.
Ad blocker interference detected!
Wikia is a free-to-use site that makes money from advertising. We have a modified experience for viewers using ad blockers

Wikia is not accessible if you've made further modifications. Remove the custom ad blocker rule(s) and the page will load as expected.