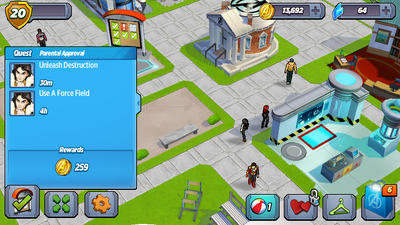 Parental Approval is a Storyline Quest. Loki wants Odin to evaluate his performance now that he's not being overshadowed by Thor.
Requirements
Edit
| Character | Action | Time | Location |
| --- | --- | --- | --- |
| Loki | Unleash Destruction | 30m | The Robo Dojo (arena) |
| Loki + 1 other character | Use A Force Field | 4hr | The Arena Of War (stage) |
Quest Dialogue
Edit
Pre-Action
Loki: Father, will you review my combat technique? I'd like to keep improving, and you have more battle experience than anyone.
Odin: What's your game, Loki?
Loki: There is no game. You've always pushed me to practice combat, and without Thor here to overshadow and bully me, I'm finally finding it enjoyable.
Odin: Good. I'll happily review your technique, and I'm glad you're recognizing the value of hand-to-hand combat. But I wish you missed your brother more...
Loki: Believe it or not, I do miss him sometimes. I do not miss getting hit with a hammer.
Post-Action
Loki: Did I do well, or very well?
Odin: You did well, Loki. For a beginner.
Loki: But I genuinely tried. I thought you'd be impressed...
Odin: I am impressed that you genuinely tried. We can train together, and I can show you how to improve. Combat is difficult. Even Thor struggled to--
Loki: I am not Thor! And I don't need your help or your approval! I'll show you just how difficult combat can be...
Ad blocker interference detected!
Wikia is a free-to-use site that makes money from advertising. We have a modified experience for viewers using ad blockers

Wikia is not accessible if you've made further modifications. Remove the custom ad blocker rule(s) and the page will load as expected.