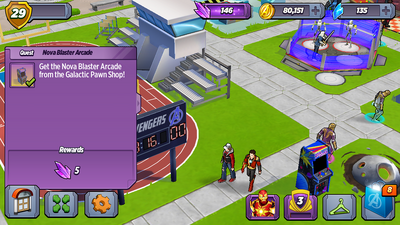 Nova Blaster Arcade is an Event Quest for the limited-time Guardians of The Galaxy Event. You must buy the Nova Blaster Arcade to begin collecting Small Med Packs.
Requirements
Edit
Get the Nova Blaster Arcade from the Galactic Pawn Shop!

Cost: 48 Energy Crystals
Time: 3s
Ad blocker interference detected!
Wikia is a free-to-use site that makes money from advertising. We have a modified experience for viewers using ad blockers

Wikia is not accessible if you've made further modifications. Remove the custom ad blocker rule(s) and the page will load as expected.