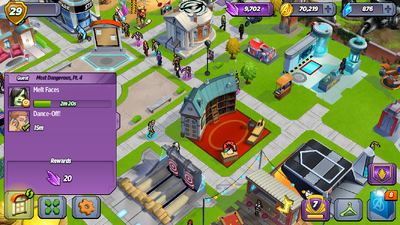 Most Dangerous, Pt. 4 is an Event Quest and part of the Guardians of the Galaxy Event. Gamora needs some music to get in the fighting mood.
Requirements
Edit
| Character | Action | Time | Location |
| --- | --- | --- | --- |
| Gamora | Melt Faces | 3m | Club Galaxy (guitar) |
| Star-Lord | Dance-Off! | 15m | Club Galaxy (dance floor) |
Quest Dialogue
Edit
Pre-Action
Star Lord: I know that look...
Gamora: Music is the only thing that keeps me sane in this universe.
Star Lord: And you love when I dance at your shows.
Gamora: It honestly makes me very uncomfortable. I believe the Terrans call it cringe-worthy. I try to avoid watching you at all costs...
Star Lord: The rhythm is gonna get you, Gamora...
Post-Action
Star Lord: That was so good!
Gamora: Thank you. I already feel more focused, and ready to continue my training, and take the fight to Ronan.
Star Lord: I was talking about my dance moves, but yeah, you did your thing. We make a good team.
Gamora: No one ever said we were a team...
Star Lord: No one ever said I was our leader either. I guess it's just destiny...
Ad blocker interference detected!
Wikia is a free-to-use site that makes money from advertising. We have a modified experience for viewers using ad blockers

Wikia is not accessible if you've made further modifications. Remove the custom ad blocker rule(s) and the page will load as expected.