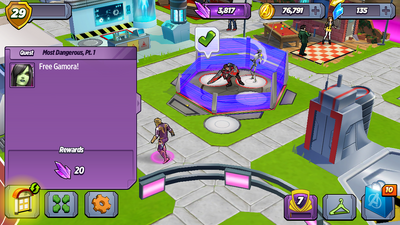 Most Dangerous, Pt. 1 is an Event Quest and part of the Guardians of the Galaxy Event. This is part of the questline to unlock Gamora.
Requirements
Edit
Repair Gamora's escape pod!
Quest Dialogue
Edit
Pre-Action
Star Lord: We need to free Gamora if we're gonna have any chance of stopping Ronan. She's the toughest person I know.
Wasp: You better hope Black Widow didn't hear that...
Post-Action
Gamora: This is all your fault, Quill...
Star Lord: I hate that word.
Gamora: I hate you...
Star Lord: We're such a good couple...
Gamora: Just hurry up and heal me so I can kill you...
Ad blocker interference detected!
Wikia is a free-to-use site that makes money from advertising. We have a modified experience for viewers using ad blockers

Wikia is not accessible if you've made further modifications. Remove the custom ad blocker rule(s) and the page will load as expected.