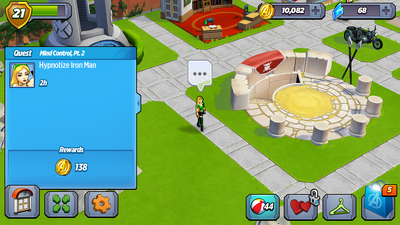 Mind Control, Pt. 2 is a Storyline Quest. Since getting Falcon under her control failed, Enchantress is trying her luck with Iron Man.
Requirements
Edit
| Character | Action | Time | Location |
| --- | --- | --- | --- |
| Enchantress + Iron Man | Hypnotize Iron Man | 2hr | Quad (middle left) |
Quest Dialogue
Edit
Pre-Action
Enchantress: Hello, Tony. You look especially handsome today.
Iron Man: I know. I feel like every day I get a little more attractive. I guess I'm becoming distinguished.
Enchantress: I need the assistance of a strong, handsome man to tell me exactly what's hiding beneath the timefog.
Iron Man: Did you ask Cap? He's only slightly less statuesque. I just made smoothies, or else I'd definitely help...
Enchantress: Oh, you'll do more than help. You'll do everything I say...
Post-Action
Iron Man: Hello, Falcon. I am Anthony Edward Stark. You may know me as Iron Man. We are friends, so please tell me everything you know regarding the most powerful artifact hidden beneath the timefog.
Falcon: ...
Iron Man: Should we break some ice by discussing the specific Midgardian sporting team that we both inexplicably find fascinating?
Falcon: C'mon. We need to find somebody who can fix hypno-brain...
Ad blocker interference detected!
Wikia is a free-to-use site that makes money from advertising. We have a modified experience for viewers using ad blockers

Wikia is not accessible if you've made further modifications. Remove the custom ad blocker rule(s) and the page will load as expected.