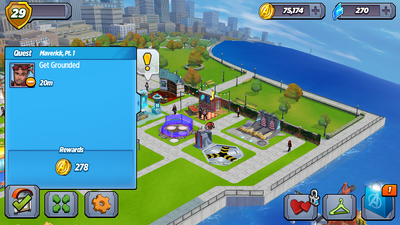 Maverick, Pt. 1 is a Storyline Quest. Nick Fury is fed up with the students snooping around his facility and is cracking down on any misbehavior.
Requirements
Edit
| Character | Action | Time | Location |
| --- | --- | --- | --- |
| Falcon | Get Grounded | 20m | Maverick Dorm (chair) |
Quest Dialogue
Edit
Pre-Action
Nick Fury: I'm sending you to Maverick Dorm.
Falcon: The evil dorm?!
Nick Fury: Don't go throwing around the 'E' word. It's just a place with more surveillance for students who wanna disrespect my flight restrictions, and snoop around my business.
Falcon: If you weren't hiding things from us, we wouldn't have to snoop around.
Nick Fury: But I do. And you did. So off you go...
Post-Action
Falcon: This place sucks.
Baron Zemo: Agreed. You should consider transferring to Hydra School.
Falcon: I'm surprised you don't go there...
Baron Zemo: I used to. They kicked me out for doing what I'll soon do to Avengers Academy...
Ad blocker interference detected!
Wikia is a free-to-use site that makes money from advertising. We have a modified experience for viewers using ad blockers

Wikia is not accessible if you've made further modifications. Remove the custom ad blocker rule(s) and the page will load as expected.