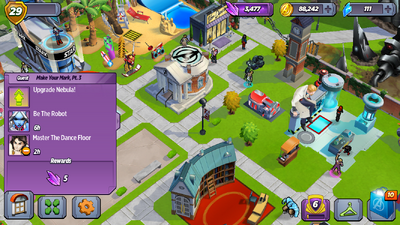 Make Your Mark, Pt. 3 is a Storyline Quest that appears after you've recruited Nebula. According to Loki, the best way to earn the other students' trust is through...dance.
Requirements
Edit
Upgrade Nebula! (Rank 2)

5,135 Energy Crystals
20 Chitauri Armors
8 Cybernetic Arms
| Character | Action | Time | Location |
| --- | --- | --- | --- |
| Nebula | Be The Robot | 6hr | Club A (dance floor) |
| Loki | Master The Dance Floor | 2hr | Club A (dance floor) |
Quest Dialogue
Edit
Pre-Action
Nebula: I'll need help to defeat Ronan for good, and move on to my true target. How do I get the students and faculty to trust me?
Loki: There is only one way...
Nebula: Sorcery?
Loki: Dance.
Nebula: Dancing with you will make them trust me?
Loki: Of course not, silly alien. You must dance alone...
Post-Action
Loki: Now do you see what I mean?
Nebula: About how dancing by myself would make me seem more trustworthy? No, I do not see anything remotely close to that. I felt stupid going into it, and worse after...
Loki: And now everyone thinks you're stupid...
Nebula: You tricked me...
Loki: Not yet. These people are trained to assist those who can't protect themselves. The less focused and powerful you portray yourself, the more likely they are to embrace you.
Nebula:You've given this a lot of thought...
Loki: The other benefit of lonesome dancing is it provides ample opportunity for plotting.
Ad blocker interference detected!
Wikia is a free-to-use site that makes money from advertising. We have a modified experience for viewers using ad blockers

Wikia is not accessible if you've made further modifications. Remove the custom ad blocker rule(s) and the page will load as expected.