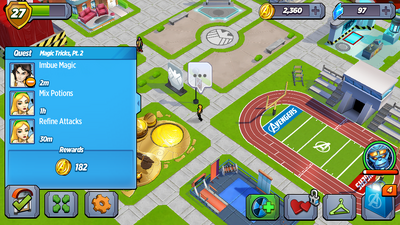 Magic Tricks, Pt. 2 is a Storyline Quest. Enchantress is plotting against Loki!
Requirements
Edit
| Character | Action | Time | Location |
| --- | --- | --- | --- |
| Loki | Imbue Magic | 2m | The Asgardian Forge (magic pool) |
| Enchantress | Mix Potions | 1hr | Pym's Lab (chemical station) |
| Enchantress | Refine Attacks | 30m | The Blasting Range (firing points) |
Quest Dialogue
Edit
Pre-Action
Loki: Why do I feel like you're secretly plotting against me?
Enchantress: Probably because you're a paranoid, insecure, little whelp of a god.
Loki: If I were you, I'd watch your lipstick-smeared mouth.
Enchantress: If I were you, I'd take advantage of the enchanting station. You're instigating a war, Loki. It would be a shame if you didn't survive...
Post-Action
Enchantress: Do you feel ready?
Loki: My plan is flawless. My powers are reaching their peak. Anyone foolish enough to stand in my way will see exactly how ready I am, and it will be the last thing they see.
Enchantress: It brings a smile to my face to see you so confident...
Loki: You're about to see me ascend the throne.
Enchantress: I see everything...
Ad blocker interference detected!
Wikia is a free-to-use site that makes money from advertising. We have a modified experience for viewers using ad blockers

Wikia is not accessible if you've made further modifications. Remove the custom ad blocker rule(s) and the page will load as expected.