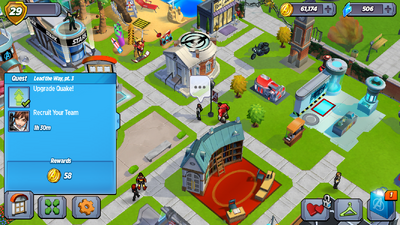 Lead the Way, pt. 3 is a Premium Quest. It's time to find some new recruits, and Quake's willing to look a little further than Midgard...
Requirements
Edit
| Character | Action | Time | Location |
| --- | --- | --- | --- |
| Quake | Recruit Your Team | 1hr 30m | The Bifrost (inside) |
Quest Dialogue
Edit
Pre-Action
Quake: I think Maria might actually be right. We don't need to be doing all of this in secret. But we do need to bring in tougher recruits. No matter how far we have to travel...
Black Widow: You know a way into outer space?
Quake: You could say that...
Post-Action
Black Widow: Where'd you go?
Quake: Asgard. They really like my gloves. They call them "exquisite gauntlets."
Black Widow: Why Asgard?
Quake: Long story, but I met a girl from their once. A goddess I guess. Toughest person I ever met. No offense...
Black Widow: She's gonna join the Academy?
Quake: Sooner or later. And she's gonna bring a few of her friends.
Black Widow: Loki's not gonna like that...
Quake: Wait until they bring his brother...
Ad blocker interference detected!
Wikia is a free-to-use site that makes money from advertising. We have a modified experience for viewers using ad blockers

Wikia is not accessible if you've made further modifications. Remove the custom ad blocker rule(s) and the page will load as expected.