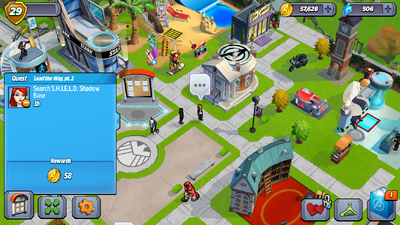 Lead the Way, pt. 2 is a Premium Quest. There's a secret shadow base where Quake's parents might be held—and Black Widow is bringing the big guns.
Requirements
Edit
| Character | Action | Time | Location |
| --- | --- | --- | --- |
| Black Widow + Wasp + Quake | Search S.H.I.E.L.D. Shadow Base | 3hr | The Quinjet Hangar (Quinjet) |
Quest Dialogue
Edit
Pre-Action
Quake: When I was looking for my parents, I ran into a guy who said my dad was being held at a S.H.I.E.L.D. base. It shows up on satellite photos, but isn't in the S.H.I.E.L.D. database.
Black Widow: Could be a trap. Your dad and his associates don't...
Quake: Seem like nice, non-monstrous people? No they don't. Doesn't mean I shouldn't go looking for him...
Black Widow: No, it just means I have a good excuse to bring even more weapons...
Post-Action
Black Widow: You think your dad did that?
Quake: I don't know. If everything they say is true, it sounds like something he could do...
Black Widow: I'd say Fury might have taken out the base if he discovered it was really being run by Hydra, but I don't think he would've took it that far...
Quake: I really wanted to find my dad, but now I'm kind of worried that he might try to find me...
Black Widow: I'll help make sure you're safe.
Quake: Thanks, but I think we're gonna need a lot more help than that...
Ad blocker interference detected!
Wikia is a free-to-use site that makes money from advertising. We have a modified experience for viewers using ad blockers

Wikia is not accessible if you've made further modifications. Remove the custom ad blocker rule(s) and the page will load as expected.