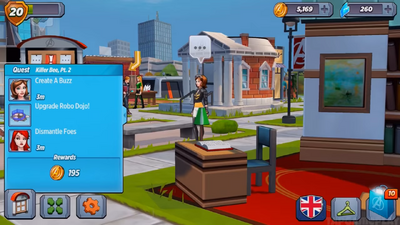 Killer Bee, Pt. 2 is a Storyline Quest. Wasp is fed up with being patronized for her bubbly attitude—it's time to get tough!
Requirements
Edit
Upgrade the Robo Dojo! (Stage 2)

Cost: 3,507 Credits
Time: 18hr
| Character | Action | Time | Location |
| --- | --- | --- | --- |
| Wasp | Create a Buzz | 3m | Quad (flying) |
| Black Widow | Dismantle Foes | 3m | The Robo Dojo (arena) |
Quest Dialogue
Edit
Pre-Action
Black Widow: If we upgrade the dojo, I can show you a few new fighting techniques.
Wasp: Yeah!
Black Widow: Are you okay?
Wasp: If I'm gonna change my image, I can't go halfsies. I'm all tough all the time right now.
Black Widow: Okay. Well, you might want to fly to get the best view...
Wasp: Don't tell me what to do!
Post-Action
Black Widow: You feel like you picked up some techniques to make you tougher?
Wasp: For sure! I have to plan an ice cream party, but then I'm gonna crack some skulls!
Ad blocker interference detected!
Wikia is a free-to-use site that makes money from advertising. We have a modified experience for viewers using ad blockers

Wikia is not accessible if you've made further modifications. Remove the custom ad blocker rule(s) and the page will load as expected.