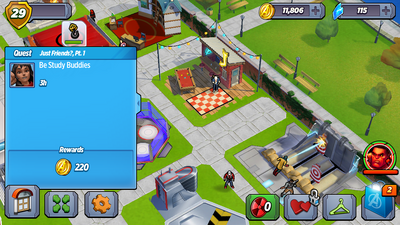 Just Friends?, Pt. 1 is a Storyline Quest. Ms. Marvel and Falcon are going on a study date.
Requirements
Edit
| Character | Action | Time | Location |
| --- | --- | --- | --- |
| Falcon + Ms. Marvel | Be Study Buddies | 3hr | The Timeless Archives (computer) |
Quest Dialogue
Edit
Pre-Action
Ms. Marvel: Everybody's been super nice, and I've already got to see and do so much amazing stuff, but I still don't feel like I belong here...
Falcon: I feel the same, except that I've had to deal with Loki and Enchantress a lot, so I don't know about everybody being nice. At least you have powers...
Ms. Marvel: Seems like you'd have to be extra-special to get invited here without powers.
Falcon: The jetpack helps. You feel like studying?
Ms. Marvel: For sure. I'm studied out, but I'll never get sick of reading Asgardian fanfic.
Post-Action
Falcon: We should hang out more. It's nice to talk to someone who isn't cocky or crazy or evil.
Ms. Marvel: Someone normal?
Falcon: Yeah, someone normal who can make her fist as big as my car.
Ad blocker interference detected!
Wikia is a free-to-use site that makes money from advertising. We have a modified experience for viewers using ad blockers

Wikia is not accessible if you've made further modifications. Remove the custom ad blocker rule(s) and the page will load as expected.