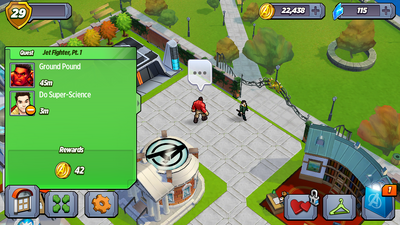 Jet Fighter, Pt. 1 is a Event Quest, and part of the Gamma Attack! Event. Red Hulk is turning to Iron Man for help in finding a way to separate Hulk from Bruce Banner.
Requirements
Edit
| Character | Action | Time | Location |
| --- | --- | --- | --- |
| Red Hulk | Ground Pound | 45m | Quad (bottom left) |
| Iron Man | Do Super-Science | 3m | Stark Tower (holo display) |
Quest Dialogue
Edit
Pre-Action
Iron Man: I heard you're trying to track down Hulk. Happy to help. I've always been a big Banner fan.
Red Hulk: Can you separate him from Hulk?
Iron Man: Never thought it was an option. Is that a thing?
Red Hulk: It is if you don't want Banner going down with him...
Post-Action
Iron Man: Sorry, no luck finding Hulk.
Red Hulk: If you're protecting him, you'll be next on my list.
Iron Man: Science bros stick together. Besides, I'm working on some armor with your name on it...
Ad blocker interference detected!
Wikia is a free-to-use site that makes money from advertising. We have a modified experience for viewers using ad blockers

Wikia is not accessible if you've made further modifications. Remove the custom ad blocker rule(s) and the page will load as expected.