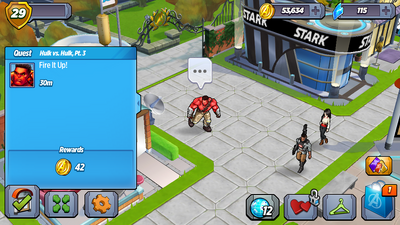 Hulk vs. Hulk, Pt. 3 is a Event Quest, and part of the Gamma Attack! Event. Loki tricked Red Hulk! Red Hulk SMASH!
Requirements
Edit
| Character | Action | Time | Location |
| --- | --- | --- | --- |
| Red Hulk | Fire It Up! | 30m | Avengers Dorm (outside) |
Quest Dialogue
Edit
Pre-Action
Red Hulk: I'm never gonna get my hands on Hulk...
Baron Zemo: Release your rage, monster. The world always responds positively to chaos. Evil dreams do come true...
Red Hulk: Why does every single person here have to be so weird?
Post-Action
Baron Zemo: I was right, wasn't I? The universe responded to your rage with an appropriately violent solution...
Red Hulk: I don't know about all that, but I definitely got a plan...
Ad blocker interference detected!
Wikia is a free-to-use site that makes money from advertising. We have a modified experience for viewers using ad blockers

Wikia is not accessible if you've made further modifications. Remove the custom ad blocker rule(s) and the page will load as expected.