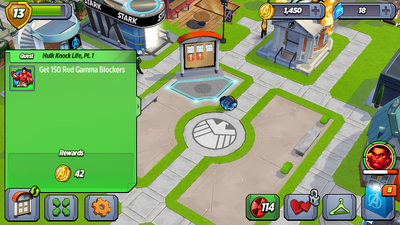 Hulk Knock Life, Pt. 1 is an Event Quest and part of the limited-time Gamma Attack! event. It's time to finish off Red Hulk once and for all!
Requirements
Edit
Get 150 Red Gamma Blockers

Each Battle with Red Hulk gives you 11 RGB
| Character | Action | Time | Location | Needed |
| --- | --- | --- | --- | --- |
| Wasp | Bob And Weave | 2hr | Quad (flying) | 5 |
| Black Widow | Test Your Armor | 4hr | Stark Tower (inside) | 3 |
| Falcon | Read To Succeed | 8hr | The Timeless Archives (book) | 2 |
| A-Bomb | Roll To Battle | 12hr | Paths | (automatically gives 1 RGB) |
Quest Dialogue
Edit
Pre-Action
Wasp: I'm about to knock out Red Hulk!
Falcon: You sure? Me and Black Widow can take care of it.
Wasp: No way. I'm sick of these guys wrecking my school, and threatening my friends. Plus, I had an awesome scrapbook party planned that's super ruined right now...
Falcon: Okay. I'd argue, but I'm more afraid of you than him...
Post-Action
Falcon: Are you alright?
Wasp: I'm fine. I can text left-handed...
Ad blocker interference detected!
Wikia is a free-to-use site that makes money from advertising. We have a modified experience for viewers using ad blockers

Wikia is not accessible if you've made further modifications. Remove the custom ad blocker rule(s) and the page will load as expected.