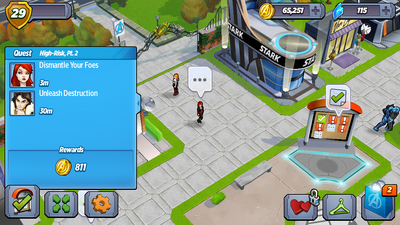 High-Risk, Pt. 2 is a Storyline Quest. Loki sees a fellow rebel in Black Widow and wants to recruit her to achieve common goals.
Requirements
Edit
| Character | Action | Time | Location |
| --- | --- | --- | --- |
| Black Widow | Dismantle Your Foes | 3m | The Robo Dojo (arena) |
| Loki | Unleash Destruction | 30m | The Robo Dojo (arena) |
Quest Dialogue
Edit
Pre-Action
Loki: You have a painful past. An independent mind. You seek secrets and power. You're like a weaker, less attractive version of me.
Black Widow: Maybe you're a cockier, chattier, more cowardly version of me.
Loki: Perhaps. Either way, we are shunned by authority and apart from our peers. I say we do something fun. Crush something insignificant along the way...
Post-Action
Loki: You already look happier. Mischief stays focused in the mirthful mind.
Black Widow: It was fun...
Loki: I refuse to befriend Midgardians, but I most likely won't attempt to purposefully destroy you.
Black Widow: Good. I'm too busy to waste my time on demigods.
Ad blocker interference detected!
Wikia is a free-to-use site that makes money from advertising. We have a modified experience for viewers using ad blockers

Wikia is not accessible if you've made further modifications. Remove the custom ad blocker rule(s) and the page will load as expected.