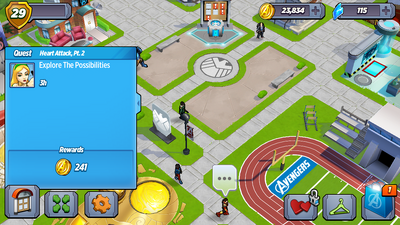 Heart Attack, Pt. 2 is a Storyline Quest. Enchantress wants to spend more time with Iron Man.
Requirements
Edit
| Charater | Action | Time | Location |
| --- | --- | --- | --- |
| Enchantress + Iron Man | Explore The Possibilities | 3hr | Stark Tower (hot tub) |
Quest Dialogue
Edit
Pre-Action
Enchantress: We need to explore the possibilities of our relationship...
Iron Man: Hot tub?
Enchantress: Yes.
Post-Action
Iron Man: I feel like you're using me...
Enchantress: Is that a bad thing?
Iron Man: No. Yes. Maybe. Probably. I like you. At least, there's a lot of things I like about you. But I can't go along with your plan. I can't hurt my friends...
Enchantress: I thought you were a man, Tony.
Iron Man: I thought I was too. But now I think that means doing what's right. And that means turning you down...
Enchantress: You'll regret it.
Iron Man: I already do. Thankfully, I have a really good imagination...
Ad blocker interference detected!
Wikia is a free-to-use site that makes money from advertising. We have a modified experience for viewers using ad blockers

Wikia is not accessible if you've made further modifications. Remove the custom ad blocker rule(s) and the page will load as expected.