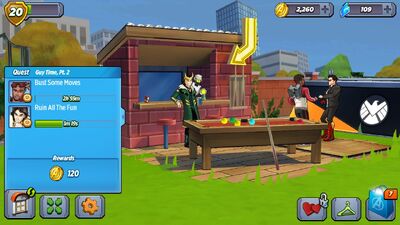 Guy Time, Pt. 2 is a Storyline Quest. Iron Man tries to make Falcon and Loki tolerate each other by partying together. Loki and Falcon are constantly bickering over Tony's attention, with Loki telling Tony repeatedly that he refuses to hang out with "bird-brain", while Falcon remarks similarly about Loki.
Requirements
Edit
| Character | Action | sTime | Location |
| --- | --- | --- | --- |
| Iron Man + Falcon | Bust Some Moves | 3hr | Club A (dance floor) |
| Loki | Ruin All The Fun | 2m | Club A (bar) |
Quest Dialogue
Edit
Pre-Action
Loki: Can we do something that doesn't involve Bird-Man?
Iron Man: You don't like Falcon? Of course, you don't. You don't like anyone.
Loki: I have degrees of dislike. Bird-Man falls somewhere between my brother, and seeing people fall down the stairs.
Iron Man: Let's go to the Club. You'll dislike him less if you give him a chance.
Loki: Fine, but he better not try to sit on my shoulder...
Post-Action
Iron Man: Good hanging out, guys. Let's do it again soon
Falcon: For sure!
Loki: You're holding him back, Bird-Man. Armor-Man could be doing great things if it weren't for you...
Falcon: You're jealous...
Loki: Jealous? I'm the god of mischief. The prince of lies. The future king of Asgard. Why would I possibly be jealous of you and that armored idiot?
Falcon: You're so jealous! Oh man, this is hilarious. Thank you. This completely made my day...
Ad blocker interference detected!
Wikia is a free-to-use site that makes money from advertising. We have a modified experience for viewers using ad blockers

Wikia is not accessible if you've made further modifications. Remove the custom ad blocker rule(s) and the page will load as expected.