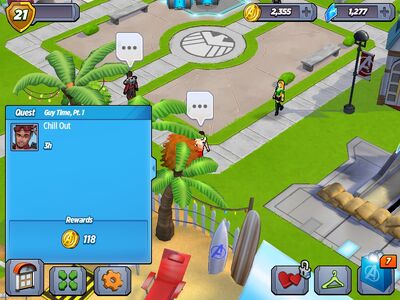 Guy Time, Pt. 1 is a Storyline Quest. It spawns after you have Iron Man, Loki, and Falcon at your Academy. The guys decide to hang out together! First stop: the hot tub. Loki and Falcon are constantly bickering over Tony's attention, with Loki telling Tony repeatedly that he refuses to hang out with "bird-brain", while Falcon remarks similarly about Loki.
Requirements
Edit
| Character | Action | Time | Location |
| --- | --- | --- | --- |
| Falcon + Iron Man + Loki | Chill Out | 3hr | Stark Tower (hot tub) |
Quest Dialogue
Edit
Pre-Action
Falcon: Let's hang out, Tony!
Iron Man: Yeah, sounds good. Wasp just had me get all emotional, so I could go for some guy time. I'll tell Loki...
Post-Action
Loki: Your tub reeks of chemicals...
Iron Man: Yeah, that's what keeps it clean.
Loki: Let's hope so. I'd prefer not to catch whatever is infecting you two...
Iron Man: What should we do for guy time phase two?
Falcon: Something without Loki?
Ad blocker interference detected!
Wikia is a free-to-use site that makes money from advertising. We have a modified experience for viewers using ad blockers

Wikia is not accessible if you've made further modifications. Remove the custom ad blocker rule(s) and the page will load as expected.